The journey through Motorsport is never easy, not even for the some of the world's top drivers! Over the years, many drivers have made the move from GP2 into Formula 1, in recent years we have seen the likes of Sergio Perez, Vitaly Petrov, Romain Grosjean and Charles Pic have made that move, and one driver who is hoping to do the same, is 23-year-old Tom Dillmann.
As the start of what I hope to be, many features on the GP2 series, I interviewed this talented Frenchman, asking a mixture of questions regarding the ups and the downs of his career, leading up to his debut season in the GP2 series, where he took a win at the third round in Bahrain.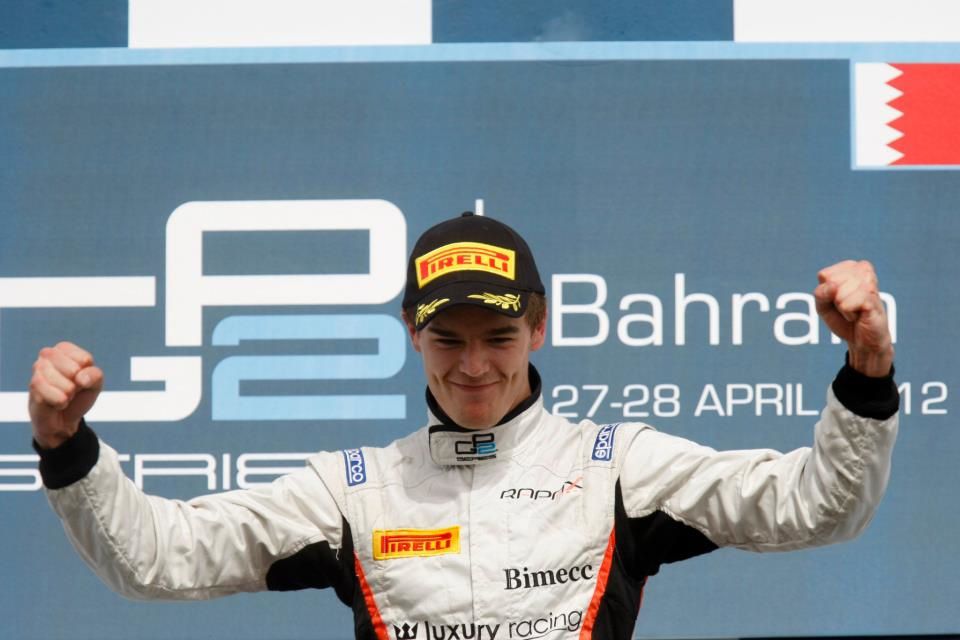 1. Tom you started competing at an early age, who was your main inspiration to begin racing?
My father! He was a race car driver, he was not only driving but he builds race cars, he was the manager, mechanic, drove the truck to the race tracks, he was doing everything! So I was nearly born on the race track.
2. What did it feel like to win a GP2 race for the first time at the third round in Bahrain?
It was great! Since my first laps in GP2 I have been very competitive, like with iSport at the end of last year. It took a bit more time with Rapax to put everything together on a race weekend because we had technical problems in free practice during the first two events but the speed has always been very good.
3. In 2004, after several successful seasons in karting you entered the Belgian Formula Renault 1.6 and joined a team run by your father. You finished 5th in the championship and took a win at Spa, what was that season like for you?
Basically I was 14 and because my father knew more about race cars than go kart he decided to buy a truck, a sponsor bought us the car and we did the championship! I was the driver and my father was the mechanic.
4. In the A1GP series you did a couple of rookie practice sessions for Team Switzerland, did you find these beneficial?
It was good to drive something different and a powerful car but the track time was very limited.
5. You were invited to a Redbull shoot-out in Estoril by Helmut Marco himself, what was going through your head at the time?
Helmut Marko came on the grid of the last race of Formule Renault Eurocup in 2006 and while I was in the car starting from the front raw he invited me to the shoot-out. I was quickest for my first time in F3 and so he signed me.
6. In 2008 RedBull stopped sponsoring you, which meant you had went through a tough time without any sponsorship, do you believe this made you push that little bit harder when racing, to impress any sponsors that where looking to sign?  
It was very tough, and it was not about results it was more complicated than that, I had to bring a part of the budget and I couldn't find it. So from mid-2008 to the end of 2010 I raced without any budget which is quite amazing. Some Formula 3 teams in Italy, Germany and Euro series believed in me to bring their team forward and offered me seats, at the beginning it was for races here and there and in 2010 I could do a complete season and I won the championship. I never gave up and now a few years later after lots of people thought my career was over I'm in GP2. So I'm quite proud of that and it also made me stronger.
7. Entering the high level Formula 3 Euroseries with ASM must have been great! You were the youngest driver on the grid and had the likes of Romain Grosjean, Nico Hülkenberg and Kamui Kobayashi as team mates. What was it like racing alongside these three drivers?
It gave me even more confidence as I was the quickest of the team during all the pre season. Unfortunately I had a big crash in the final minutes of the last test day and I broke my sternum and a vertebra, it broke the momentum.
8. Who has been your best team mate so far in your career?
Difficult to say, I would say Grosjean for his driving skills and Hülkenberg for his mental strength.
9. What was it like becoming the 2010 German Formula Three champion? Did you have a highlight race from that season?
That season was just about winning, I wouldn't have accepted to lose it, for my career and for myself. I just took it as a new start for my career.
10. One last question, where do you see yourself in the next couple of years?
Difficult to say, when I dream, I hope to be in Formula 1, but I have been through very tough times in my career and to be honest 1 year ago I would never think I would have the chance to drive GP2 so why not?!
For more information on Tom's career and to keep up to date, www.tomdillmann.com. Follow Tom on Twitter: @TomDillmann
I have to thank Tom for answering these questions and wish him all the best for the rest of the season.  My interview with him is the start of many features on the GP2 seasons that you will find on my blog during the year!